'One-stop shop' online platform connects journalists with public relations professionals and reputable sources of color for inclusive storytelling beginning October 1.
MEMPHIS, Tenn., August 25, 2021 (Newswire.com) – KQ Communications,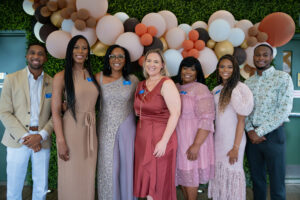 an award-winning public relations, digital marketing and branding firm, is working with PRSA, Society of Professional Journalists (SPJ) and Black Public Relations Society of Atlanta to launch Sources of Color to connect journalists and public relations professionals and sources to secure the most reputable and diverse voices for news stories in little to no time.
According to Columbia Journalism Review, only 17% of newsroom staff at print and online publications and 25% of TV staff are journalists of color. When journalists look to their own networks for contacts, that often leaves people of color out as reputable sources.
The platform looks to bridge the gap between voices of color and writers to create more balanced and inclusive stories. As a result, journalists will spend less time researching and more time storytelling. Likewise, public relations professionals representing clients of color as well as independent sources will gain greater access to media to highlight diverse voices.
"Sources of Color is the next step in the modernization of journalism and public relations," said Renee Malone, KQ Communications president and founding partner. "We are excited to work with our partners to help showcase the experiences and expertise of people of color who can contribute to news stories and ensure equity in storytelling and media representation."
Sources of Color is considered a one-stop shop for both journalists and sources or public relations professionals to search and communicate with each other and hosts a range of features, including chat, video or call functions and the ability to share multimedia resources. Starting at just under $10 a month, sources can showcase their industry expertise, boost their profile among national journalists and help provide opportunities for PR professionals.
"Sources of Color presents a unique opportunity to ensure diverse voices are not only heard but captured within newsrooms across the country," said Angelo D. Jones II, Black Public Relations Society of Atlanta president. "Black Public Relations Society of Atlanta (BPRSA) is proud to support this purpose-driven resource and looks forward to its continued success."
A portion of the proceeds from platform memberships will go toward scholarships for students from under-represented backgrounds within PRSA's student organization, PRSSA, to elevate opportunities in their respective industries.
"As part of our ongoing commitment to diversity and inclusion, PRSA looks forward to supporting Sources of Color and providing our members with more opportunities to work with the media as advocates for their clients and organizations with diverse backgrounds, experiences and expertise," said Linda Thomas Brooks, PRSA CEO. "We are also pleased the platform will help provide educational opportunities for students studying public relations."
John Shertzer, Society of Professional Journalists executive director, said it's a tool every journalist needs in their toolkit. "SPJ is fully behind the effort to increase the diversity of sources that our members and journalists everywhere use for their reporting. This platform can deliver on that goal and its design and usefulness will make it a bookmarked site for every journalist. We are proud to be a lead partner on this effort and encourage all of our members to sign on."
Sources of Color is currently in beta and will launch publicly October 1, 2021. For more information, visit sourcesofcolor.com.
Media Contact: KQ Communications | Alisha@kqcommunications.com | (901) 761-9286